Hi there everyone,
Mike here again with mini dev blog / call to action!
Previously on Community Makes a Skill Tree™: Shatter Strike was given an awesome skill tree because you all brought forward some great suggestions. The Shatter Strike tree that you can find in-game is completely made up of nodes that were suggested by the community. Since we had well over 100 nodes suggested, nowhere near all of them could be included in the game - but I think we got a really fun skill tree out of it!
This is how I like to play Shatter Strike;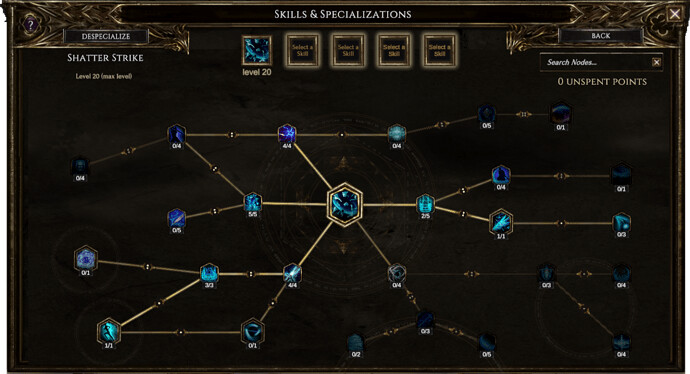 I want to give a shout-out to @JustLoveHnS for their suggestion to change the base skill functionality from a single 360 degree swipe slash into two 200 degree slashes that meet in the middle. I think this gives the skill a lot more personality and fun factor.
We've picked the next skill in the series to get the community treatment. Please leave your suggestions here as a comment and I'll get to work on them next week!

Summon Scorpion
The Primal Scorpion has 400 base health and performs a melee attack which deals 28 physical damage and inflicts poison with double duration. It's special ability is Poison Nova which inflicts poison with double duration and 25% increased effectiveness to all nearby enemies.
If you have so many ideas that you have an entire skill tree planned yourself, please pick out your favorite and most transformative nodes to present as suggestions and then link the whole tree after that. What I'm mostly looking for are nodes that change the way you play.
Since we've done an Acolyte skill, a Mage skill and now a Primalist skill, next up will be a Sentinel skill. Who knows what class we'll do after that…