Good morning!
I'm not able to launch the Kickstarter Demo (folder Epoch_2018_04_25) and get the following error: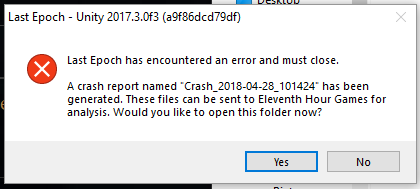 My specs are Windows 10 64-bit, Intel i7-4710HQ, 16GB RAM, Nvidia GTX 870m
Here's the error log:
Last Epoch [version: Unity 2017.3.0f3 (a9f86dcd79df)]
UnityPlayer.dll caused an Access Violation (0xc0000005) in module UnityPlayer.dll at 0033:60e8b41f.
Error occurred at 2018-04-28_101758.D:\Games\Epoch_2018_04_25\Epoch_2018_04_25\Last Epoch Kickstarter Demo.exe, run by Ruone.25% memory in use.16303 MB physical memory [12069 MB free].18735 MB paging file [14322 MB free].134217728 MB user address space [134217070 MB free].Read from location 00000020 caused an access violation.
Context:RDI: 0xffffffff RSI: 0x00000000 RAX: 0x00000000RBX: 0x135a6930 RCX: 0x00000000 RDX: 0xffffffffRIP: 0x60e8b41f RBP: 0xd82fef20 SegCs: 0x00000033EFlags: 0x00010246 RSP: 0xd82fee18 SegSs: 0x0000002bR8: 0x00000000 R9: 0x0000001e R10: 0x00000000R11: 0x2d33e928 R12: 0x00000000 R13: 0x00000001R14: 0x00000001 R15: 0x00000110
Bytes at CS:EIP:41 8b 48 20 41 8b 40 18 8d 04 48 41 8b 48 24 99
Stack:0xd82fee18: 60e88f91 00007ff9 00000000 00000000 ……0xd82fee28: 00000000 00000000 00000000 00000000 …0xd82fee38: 00000000 00000000 00000000 00000000 …0xd82fee48: 00000000 00000000 49b35c36 000038ed …6.I.8…0xd82fee58: 606f208a 00007ff9 00000018 00000000 . o…0xd82fee68: 2d33d3f0 0000018b 2d33e928 0000018b …3-…(.3-…0xd82fee78: 606c8e9d 00007ff9 d82ff019 00000075 …l…/.u…0xd82fee88: a3ac0803 00007ff9 000506d6 00000000 …0xd82fee98: 60e8c990 00007ff9 2d33e960 0000018b …….3-…0xd82feea8: 606f224a 00007ff9 61861800 00007ff9 J"o…a…0xd82feeb8: 20429d70 0000018b 2d341820 0000018b p.B … .4-…0xd82feec8: 00000018 00000000 618619a0 00007ff9 …a…0xd82feed8: 606f208a 00007ff9 61861840 00007ff9 . o…@…a…0xd82feee8: 2d33e960 0000018b 00000001 00000000.3-…0xd82feef8: d82ff019 00000075 2d33e960 0000018b …/.u….3-…0xd82fef08: 606f3118 00007ff9 6185ef30 00007ff9 .1o…0…a…0xd82fef18: 00000000 00000000 00000001 00000004 …0xd82fef28: 000007d8 00000000 00000110 00000000 …0xd82fef38: 00000001 00000000 60e8c990 00007ff9 ……0xd82fef48: 000506d6 00000000 2d33d3f0 0000018b …3-…0xd82fef58: 00000000 00000000 d82ff019 00000075 …/.u…0xd82fef68: 60e8d645 00007ff9 ffffffff 00000000 E……0xd82fef78: 00000044 00000000 2d33d3f0 0000018b D…3-…0xd82fef88: 00000004 00000000 13958290 0000018b …0xd82fef98: 00000018 00007ff9 00000004 00000000 …0xd82fefa8: 9872b90e 00007ff9 13958290 0000018b …r…0xd82fefb8: 00000018 00000000 135708e0 0000018b …W…0xd82fefc8: 00000018 00000000 00000044 00320020 …D… .2.0xd82fefd8: 0000000e 0000000f 00000000 00000000 …0xd82fefe8: 2d33e960 0000018b 00000020 00000000 .3-… …0xd82feff8: 00200001 00000000 00000020 00000000 … … …0xd82ff008: 00000044 ffffffff 000001c3 000000b2 D…0xd82ff018: 000002e6 0000016b 0000049b 0000020e …k…0xd82ff028: 00200001 00000000 00000000 00000000 … …0xd82ff038: 000002e6 0000016b 0000049b 0000020e …k…0xd82ff048: a64b757b 00007ff9 00000110 00000000 {uK…0xd82ff058: 000506d6 00000000 00000001 00000000 …0xd82ff068: 00000001 00000000 d82ff1d8 00000075 …/.u…0xd82ff078: a64b76f1 00007ff9 00000000 00000000 .vK…0xd82ff088: 00000001 00000075 00000001 00000000 …u…0xd82ff098: 00000001 00000000 d82ff0d0 00000075 …/.u…0xd82ff0a8: d82ff0d8 00000075 d82ff169 00000075 …/.u…i./.u…0xd82ff0b8: a6ee13a7 00007ff9 00000000 00000000 …0xd82ff0c8: 80000012 0000018b 00000000 00000000 …0xd82ff0d8: 00000000 00000000 60e8c990 00007ff9 ……0xd82ff0e8: a6edf0c3 00007ff9 00000048 00000000 …H…0xd82ff0f8: 00000001 00007ff9 00000000 00000000 …0xd82ff108: 00000000 00000000 00000030 00000000 …0…0xd82ff118: ffffffff ffffffff ffffffff ffffffff …0xd82ff128: a64b762a 00007ff9 00000000 00000000 *vK…0xd82ff138: 00000087 00000000 00000000 00000000 …0xd82ff148: 00000001 00000000 000506d6 00000000 …0xd82ff158: a64b790d 00007ff9 00000000 00000000 .yK…0xd82ff168: 00000110 00000000 1200bc60 0000018b ……0xd82ff178: 000406c8 00000000 000406c8 00000000 …0xd82ff188: 00000000 00000000 00000001 000038ed …8…0xd82ff198: d82ff1a0 00000075 00000000 00000000 …/.u…0xd82ff1a8: 00000000 00000000 00000000 00000000 …0xd82ff1b8: 00000000 00000000 6e34c2f2 00004a0d …4n.J…0xd82ff1c8: a64bba42 00007ff9 80000012 00000000 B.K…0xd82ff1d8: 00000000 00000000 00000000 00000000 …0xd82ff1e8: 00000110 00000000 000506d6 00000000 …0xd82ff1f8: 000406c8 00000000 00000110 00000000 …0xd82ff208: 00000000 00000000 d82ff570 00000075 …p./.u…0xd82ff218: a6502269 00007ff9 00000000 00000000 i"P…0xd82ff228: 00000000 80000012 00000000 00000000 …0xd82ff238: 00000000 00000000 00000001 000038ed …8…0xd82ff248: 00000000 00000000 80000012 00000000 …0xd82ff258: a64bb85d 00007ff9 00000001 00000000 ].K…0xd82ff268: 00000000 00000000 d82ff360 00000075 …./.u…0xd82ff278: ffffffff ffffffff a12e0790 00007ff9 …0xd82ff288: 00000000 00000000 a64bba42 00007ff9 …B.K…0xd82ff298: a12e07f6 00007ff9 00000001 00000000 …0xd82ff2a8: 00000000 00000000 00000000 00000000 …0xd82ff2b8: 00000000 80000012 00000000 00000000 …0xd82ff2c8: 00000000 00000000 9872ab40 00000000 …@.r…0xd82ff2d8: a64ce5e4 00007ff9 00000048 00000000 …L…H…0xd82ff2e8: 00000001 00000000 00000000 00000000 …0xd82ff2f8: 00000000 00000000 00000030 00000000 …0…0xd82ff308: ffffffff ffffffff ffffffff ffffffff …0xd82ff318: a64bb6f7 00007ff9 00000000 00000000 …K…0xd82ff328: d82ff510 00000075 00000000 00000000 …/.u…0xd82ff338: a652a2d8 00007ff9 00000008 00000000 …R…0xd82ff348: 9872ab40 00007ff9 000406ca 00000000 @.r…0xd82ff358: 80000000 00000000 a6f70060 00007ff9 ……0xd82ff368: 00000000 00000000 00000000 00000000 …0xd82ff378: 00000087 00007ff9 000406ca 00000000 …0xd82ff388: 80000000 00000000 00000000 00000000 …0xd82ff398: a64d6107 00007ff9 00000000 00000000 .aM…0xd82ff3a8: 00000000 00000000 00000000 00000000 …0xd82ff3b8: 00000000 00000000 00000000 00000000 …0xd82ff3c8: a64bb54c 00007ff9 00000008 00000000 L.K…0xd82ff3d8: a6f70060 00007ff9 000506d6 00000000…0xd82ff3e8: 80000000 00000000 000406c8 00000000 …0xd82ff3f8: 00000000 00000000 00000000 00000000 …0xd82ff408: 00000001 00000000 00000000 00000000 …0xd82ff418: a65331e0 00007ff9 00000000 00000000 .1S…0xd82ff428: a64d19c3 00007ff9 00000000 00000000 …M…0xd82ff438: 00000000 00000000 000406c8 00000000 …0xd82ff448: d82ff4b8 00000075 a6f70060 00007ff9 …/.u……0xd82ff458: 12015090 0000018b d82ff4e8 00000075 .P…/.u…0xd82ff468: 00000000 00000000 00000000 00000000 …0xd82ff478: a65331e0 00007ff9 a6f70170 00007ff9 .1S…p…0xd82ff488: a6f73f94 00007ff9 00000000 00000000 .?..0xd82ff498: 00000000 00000000 00000000 00000000 …0xd82ff4a8: 00000000 00000000 d82ff4e8 00000075 …/.u…0xd82ff4b8: 00000030 00000002 a3cf1164 00007ff9 0…d…0xd82ff4c8: 00000000 00000000 00000001 00000000 …0xd82ff4d8: d82ff518 00000075 00000000 00000000 …/.u…0xd82ff4e8: 1200bc60 0000018b 00000110 00000000…0xd82ff4f8: 000406c8 00000000 00000000 00000000 …0xd82ff508: a6f70060 00007ff9 a6f701d0 00007ff9 …0xd82ff518: a64bace8 00007ff9 00000000 00000000 …K…0xd82ff528: 40000600 00000000 000506d6 00000000 …@…0xd82ff538: 000406ca 00000000 00000000 00000000 …0xd82ff548: 000002b1 00007ff9 00000000 00004a0d …J…0xd82ff558: a64c9b00 00007ff9 00000000 0000018b …L…0xd82ff568: 00000000 00000000 619fe284 00007ff9 …a…0xd82ff578: 000406c8 00000000 00000000 00000000 …0xd82ff588: 00000006 00000000 000506d6 00000000 …0xd82ff598: 60e8c990 00007ff9 d82ff6b0 00000075 ……/.u…0xd82ff5a8: a64cc311 00007ff9 1200bc60 0000018b …L……0xd82ff5b8: 60e8c900 00007ff9 000406c8 00000000 ……0xd82ff5c8: 1200bc60 0000018b 00000000 00000075 …u…0xd82ff5d8: 000000bb 00000000 000001bb 00007ff9 …0xd82ff5e8: 000000ac 00000000 000506d6 00000000 …0xd82ff5f8: 000003f8 00000000 60420000 00007ff9 …B…0xd82ff608: 00000000 00000000 00000000 00000000 …0xd82ff618: 00000000 00007ff9 40000600 00000000 …@…0xd82ff628: 00000000 00000000 00000000 0000000d …0xd82ff638: 000003f8 000000ac ffff0001 00000000 …0xd82ff648: 00010101 80c800cc 00000005 01350000 …5.0xd82ff658: a6ef00fa 00007ff9 00000000 00000000 …0xd82ff668: 000001d6 000001b3 00000000 00000000 …0xd82ff678: 00000006 00000006 6b0a0eb7 00000000 …k…0xd82ff688: 40000600 00000000 000000bb 00000000 …@…0xd82ff698: 0000000b 000001bb 00000003 00007ff9 …0xd82ff6a8: 80000000 00007ff9 619fe282 00007ff9 …a…0xd82ff6b8: 00000000 00000000 00000000 00000000 …0xd82ff6c8: 00000000 00000000 50010000 00730007 …P…s.0xd82ff6d8: 006a0127 000003f8 00000000 00000002 '.j…0xd82ff6e8: 619fe280 00007ff9 00000000 00000000 …a…0xd82ff6f8: 00000000 00000000 60420000 00007ff9 …B…0xd82ff708: 619fe17e 00007ff9 00000000 00000000 ~…a…0xd82ff718: 0000001e 00000020 619fe260 00007ff9 … ……a…0xd82ff728: d82ff7e0 00000075 00000000 00000000 …/.u…0xd82ff738: 6e34c622 00004a0d 619fe160 00007ff9 ".4n.J……a…0xd82ff748: 60e8c990 00007ff9 00000001 00000000 ……0xd82ff758: 60420000 00007ff9 00000000 00000000 …B…0xd82ff768: 00000000 00000000 00000000 00000000 …0xd82ff778: a64db6f4 00007ff9 d82ff7d8 00000075 …M…/.u…0xd82ff788: 00000000 00000000 00000000 00000000 …0xd82ff798: 00000000 00000000 60e8c990 00007ff9 ……0xd82ff7a8: 00000000 00000000 00000003 00000000 …0xd82ff7b8: 00000000 00000000 00000000 00000000 …0xd82ff7c8: 00000000 00000000 00000000 00000000 …0xd82ff7d8: a64db5d2 00007ff9 619fe160 00007ff9 …M……a…0xd82ff7e8: 00000000 00000000 60e8c990 00007ff9 ……0xd82ff7f8: 60420000 00007ff9 00000000 00000000 …B…0xd82ff808: 00000003 ffffffff 619fe160 00007ff9 ……a…0xd82ff818: a64f9eb7 00007ff9 60420000 00007ff9 …O…B…0xd82ff828: 60e8c990 00007ff9 ffffffff ffffffff ……0xd82ff838: 00000000 00000000 00000000 00000000 …0xd82ff848: 00000002 00000000 00000000 00000000 …0xd82ff858: 60e8709c 00007ff9 2d341820 0000018b .p.… .4-…0xd82ff868: d82ff960 00000075 00000000 00000000./.u…0xd82ff878: 0000005e 00000000 00000000 00000000 ^…0xd82ff888: 00000010 00000000 2d341800 0000018b …4-…0xd82ff898: 00000014 00000000 00000000 00000000 …0xd82ff8a8: 0000000f 00000000 00000044 000001a6 …D…0xd82ff8b8: 2d340000 0000018b 0000001e 00000000 …4-…0xd82ff8c8: 00000000 00000000 00000007 00000000 …0xd82ff8d8: 00000044 00007ff9 2d33d3f0 0000018b D…3-…0xd82ff8e8: 00000012 00000000 00000000 00000000 …0xd82ff8f8: 00000012 00000000 00000044 00000000 …D…0xd82ff908: 2d33e960 0000018b 0000005e 00000000 .3-…^…0xd82ff918: 1339dc90 0000018b 0000005e 00000000 …9…^…0xd82ff928: 00000044 00000000 137d3490 0000018b D…4}…0xd82ff938: 0000004b 00000000 00000000 00000000 K…0xd82ff948: 0000004b 00000000 00000044 00000000 K…D…0xd82ff958: 00000000 00000000 00000000 00000000 …0xd82ff968: 00000000 00000000 00000000 00000000 …0xd82ff978: 1339dc90 0000018b d82ffa90 00000075 …9…/.u…0xd82ff988: 60e91575 00007ff9 00000000 00000075 u……u…0xd82ff998: 1339dc90 0000018b 00000000 00000000 …9…0xd82ff9a8: 00000000 00000000 00000001 00000000 …0xd82ff9b8: 1339dc90 0000018b 00000000 00000000 …9…0xd82ff9c8: d82ffac0 00000075 13593df0 0000018b …/.u…=Y…0xd82ff9d8: 00000057 00000000 00630069 005c0065 W…i.c.e…0xd82ff9e8: 00000057 00000000 00000044 006b0073 W…D…s.k.0xd82ff9f8: 13593c70 0000018b 00000053 00000000 p<Y…S…0xd82ffa08: 00676966 0065006d 00000053 00000000 fig.m.e.S…0xd82ffa18: 00000044 005f0068 135b0b80 0000018b D…h.…[…0xd82ffa28: 135b0ba8 0000018b 135b0ba8 0000018b …[…[…0xd82ffa38: 006d0061 00730065 0045005c 006f0070 a.m.e.s…E.p.o.0xd82ffa48: 00680063 0032005f 00310030 005f0038 c.h..2.0.1.8..0xd82ffa58: 00340030 0032005f 13593df0 0000018b 0.4..2…=Y…0xd82ffa68: 00000053 00000000 00300032 00380031 S…2.0.1.8.0xd82ffa78: 00000053 00000000 00000044 004c005c S…D…L.0xd82ffa88: 1359b670 0000018b 0000004b 00000000 p.Y…K…0xd82ffa98: 00200068 0069004b 0000004b 00000000 h. .K.i.K…0xd82ffaa8: 00000044 00650074 00000000 00000000 D…t.e…0xd82ffab8: 7473614c 6f704520 72006863 00000000 Last Epoch.r…0xd82ffac8: 0000000a 00000000 00000044 00000000 …D…0xd82ffad8: 135a6770 0000018b 00000013 00000000 pgZ…0xd82ffae8: 00000000 00000000 00000013 00000000 …0xd82ffaf8: 00000044 00000000 00000000 0000018b D…0xd82ffb08: 13593d90 0000018b 00000050 00000000 .=Y…P…0xd82ffb18: 0000000a 00000000 00000050 00000000 …P…0xd82ffb28: 00000044 00007ff9 135979d0 0000018b D…yY…0xd82ffb38: 00000066 00000000 11a687b0 0000018b f…0xd82ffb48: 00000066 00000000 00000044 00000000 f…D…0xd82ffb58: 00000032 00000000 00000019 00000000 2…0xd82ffb68: 00000000 00000000 11a6ed80 0000018b …0xd82ffb78: 00000000 00000000 13593cd0 0000018b …<Y…0xd82ffb88: 00000055 00000000 411148e0 00007ff7 U…H.A…0xd82ffb98: 00000054 00000000 00000044 00000000 T…D…0xd82ffba8: 1359b620 0000018b 0000004d 00000000 .Y…M…0xd82ffbb8: 4110198e 00007ff7 0000004d 00000000 …A…M…0xd82ffbc8: 00000044 00007ff7 00000fa0 00000000 D…0xd82ffbd8: 00000000 00000000 00000068 00000000 …h…0xd82ffbe8: 11a529d0 0000018b 11a529b0 0000018b .)…)…0xd82ffbf8: 11a5291a 0000018b 00000000 00000000 .)…0xd82ffc08: 00000000 00000000 00000000 00000000 …0xd82ffc18: 00000000 00000000 00000000 00000000 …0xd82ffc28: 60e91dfb 00007ff9 00000001 00000000 …`…0xd82ffc38: 00000000 00000000 00000000 00000000 …0xd82ffc48: 411076a4 00007ff7 00000001 00000000 .v.A…0xd82ffc58: 411013ee 00007ff7 00000000 00000000 …A…0xd82ffc68: 41115bf8 00007ff7 00000000 00000000 .[.A…0xd82ffc78: 00000000 00000000 00000000 00000000 …0xd82ffc88: 00000000 00000000 00000000 00000000 …0xd82ffc98: a4cb1fe4 00007ff9 00000000 00000000 …0xd82ffca8: 00000000 00000000 00000000 00000000 …0xd82ffcb8: 00000000 00000000 00000000 00000000 …0xd82ffcc8: a6f3f061 00007ff9 00000000 00000000 a…0xd82ffcd8: 00000000 00000000 00000000 00000000 …0xd82ffce8: 00000000 00000000 00000000 00000000 …0xd82ffcf8: 00000000 00000000 00000000 00000000 …0xd82ffd08: 00000000 00000000 00000000 00000000 …0xd82ffd18: 00000000 00000000 00000000 00000000 …0xd82ffd28: 00000000 00000000 00000000 00000000 …0xd82ffd38: 00000000 00000000 00000000 00000000 …0xd82ffd48: 00000000 00000000 00000000 00000000 …0xd82ffd58: 00000000 00000000 00000000 00000000 …0xd82ffd68: 00000000 00000000 00000000 00000000 …0xd82ffd78: 00000000 00000000 00000000 00000000 …0xd82ffd88: 00000000 00000000 00000000 00000000 …0xd82ffd98: 00000000 00000000 00000000 00000000 …0xd82ffda8: 00000000 00000000 00000000 00000000 …0xd82ffdb8: 00000000 00000000 00000000 00000000 …0xd82ffdc8: 00000000 00000000 00000000 00000000 …0xd82ffdd8: 00000000 00000000 00000000 00000000 …0xd82ffde8: 00000000 00000000 00000000 00000000 …0xd82ffdf8: 00000000 00000000 00000000 00000000 …0xd82ffe08: 00000000 00000000 00000000 00000000 …0xd82ffe18: 00000000 00000000 00000000 00000000 …0xd82ffe28: 00000000 00000000 00000000 00000000 …0xd82ffe38: 00000000 00000000 00000000 00000000 …0xd82ffe48: 00000000 00000000 00000000 00000000 …0xd82ffe58: 00000000 00000000 00000000 00000000 …0xd82ffe68: 00000000 00000000 00000000 00000000 …0xd82ffe78: 00000000 00000000 00000000 00000000 …0xd82ffe88: 00000000 00000000 00000000 00000000 …0xd82ffe98: 00000000 00000000 00000000 00000000 …0xd82ffea8: 00000000 00000000 00000000 00000000 …0xd82ffeb8: 00000000 00000000 00000000 00000000 …0xd82ffec8: 00000000 00000000 00000000 00000000 …0xd82ffed8: 00000000 00000000 00000000 00000000 …0xd82ffee8: 00000000 00000000 00000000 00000000 …0xd82ffef8: 00000000 00000000 00000000 00000000 …0xd82fff08: 00000000 00000000 00000000 00000000 …0xd82fff18: 00000000 00000000 00000000 00000000 …0xd82fff28: 00000000 00000000 00000000 00000000 …0xd82fff38: 00000000 00000000 00000000 00000000 …0xd82fff48: 00000000 00000000 00000000 00000000 …0xd82fff58: 00000000 00000000 00000000 00000000 …0xd82fff68: 00000000 00000000 00000000 00000000 …0xd82fff78: 00000000 00000000 00000000 00000000 …0xd82fff88: 00000000 00000000 00000000 00000000 …0xd82fff98: 00000000 00000000 00000000 00000000 …0xd82fffa8: 00000000 00000000 00000000 00000000 …0xd82fffb8: 00000000 00000000 00000000 00000000 …0xd82fffc8: 00000000 00000000 00000000 00000000 …0xd82fffd8: 00000000 00000000 00000000 00000000 …0xd82fffe8: 00000000 00000000 00000000 00000000 …0xd82ffff8: 00000000 00000000 …
== [end of error.log] ==