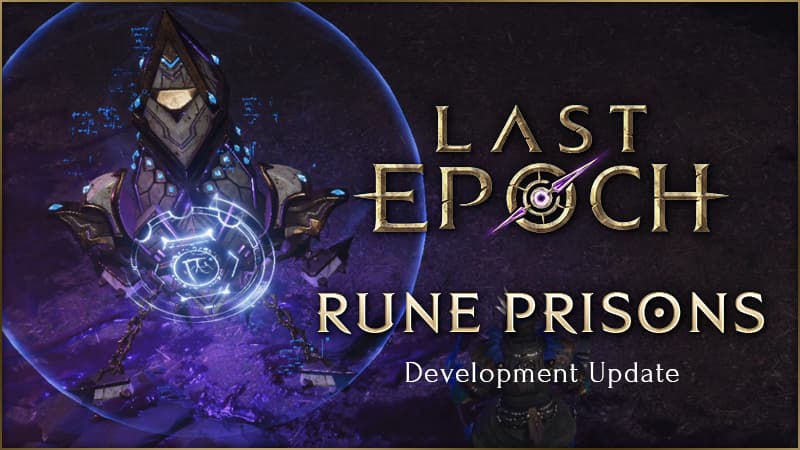 Happy Sunday, Travelers! Welcome to the 0.9.2 Pre-patch Blog Post covering the new Rune Prisons and Experimental Items coming this Thursday in Runes of Power!
An area we've felt is in need of improvement with respect to Last Epoch's endgame system is the moment-to-moment gameplay of completing Echoes. This isn't something we feel can be fixed by any single change, however we're still looking to improve this aspect of gameplay piece by piece. By introducing more random events that can happen in an Echo, it can help to reduce the 'sameness' of each Echo, and feel like a much more dynamic experience. The first random encounter we're introducing this Thursday is Rune Prisons.
Rune Prisons
Rune Prisons are a special type of encounter you can find in any Monolith Echo, as well as most campaign areas. While making your way through the world and Eras of Eterra, you may find yourself coming across a large floating prism held in place with chains. The intermittent shudders betray the power that lies within these prisons.
By clicking on a Rune Prison, you will unleash the Exiled Mage held within, who will become immediately hostile to both you and any enemies in the area. These Exiled Mages will spawn with a random set of abilities, so you never quite know exactly what you will be facing when you break them out - but always be ready for a fight.
If you manage to defeat this Exiled Mage, you will be rewarded with an Experimental item, and potentially, at higher levels, a Rune of Research.
Experimental Items
Experimental Items are a new class of items being introduced in Runes of Power. These are items which at first glance may appear to be a standard Magic, Unique, or Exalted item. However on closer inspection you'll notice they come with a very special affix. These Experimental Affixes cannot by crafted or found through normal means, and are typically only found on items dropped by an Exiled Mage.
These experimental affixes can even roll exalted, as well as the potential for other affixes on the item to roll as Exalted. This means that yes, you can in fact craft a Legendary Item using Experimental Affixes!
At higher levels, you may also find a very special crafting item dropped by an Exiled Mage: a Rune of Research.
Experimental Crafting
Successfully defeating an Exiled Mage above level 70 has a chance to drop a Rune of Research. This Rune will seal an Experimental Affix on an Experimental item. This obeys normal Sealed Affix rules, in that an item can only have one Sealed Affix.
When sealing an experimental affix through the use of a Rune of Research, you have a chance to receive a particularly powerful crafting item, a Glyph of Insight. When this glyph is used to upgrade a normal affix, it will change it into an Experimental Affix. This process is deterministic based on the item.
This means if you have two of the exact same item, it will always produce the same Experimental Affix. Determining what exactly an item needs for each possible Experimental Affix however is something that may require a bit of… experimentation.
One-shot and Lost Caches
That's all for today's Pre-Patch Blog Post taking a look at Rune Prisons, and we hope everyone's excited for this entirely new type of item and crafting mechanic coming in just four more days on September 7th.
Join us again tomorrow for a look into One-shot Caches, Lost Caches, and some general improvements for Monolith Echoes coming in Beta Patch 0.9.2 Runes of Power!