Hi,
I'm trying to get the Beta version running, but so far with no luck.
I'm on Fedora (28 and 30, tried on both).
Aside me not having the empty my-steam-key page (sent email to support already).
I'm also trying to get the standalone client working.
First, that fails on requiring "old" OPENSSL_1.0.0 lib
(as already mentioned in previously report forum posts)
workarounding that as suggested gets me one step forward:
cd somewhere/LastEpochBeta/
./Launcher
#   ./Launcher: error while loading shared libraries: libssl.so.1.0.0: cannot open shared object file: No such file or directory
mkdir ubussl; cd ubussl
curl "http://security.ubuntu.com/ubuntu/pool/main/o/openssl1.0/libssl1.0.0_1.0.2n-1ubuntu6.2_amd64.deb" -O
ar x libssl1.0.0_1.0.2n-1ubuntu6.2_amd64.deb
tar xf data.tar.xz
mv usr/lib/x86_64-linux-gnu/lib* ../
cd ..
rm -rf ubussl
# now start launcher again
LD_LIBRARY_PATH=. ./Launcher

It then starts the patcher/launcher, but that fails with "Please check Your internet connection" red error message.
Clicking retry seems to hide the message, show 0.0% and then does nothing at all?
Cancel not working either, error not appearing again after a while … just sitting stuck at 0.0%.
(Btw patch notes box is empty, so failed to fetch content too?)
Making me wonder, if there is some connection/content issues (since all the tech issues yesterday),
or maybe it's that libssl is not good, compatible enough and breaks the requests then?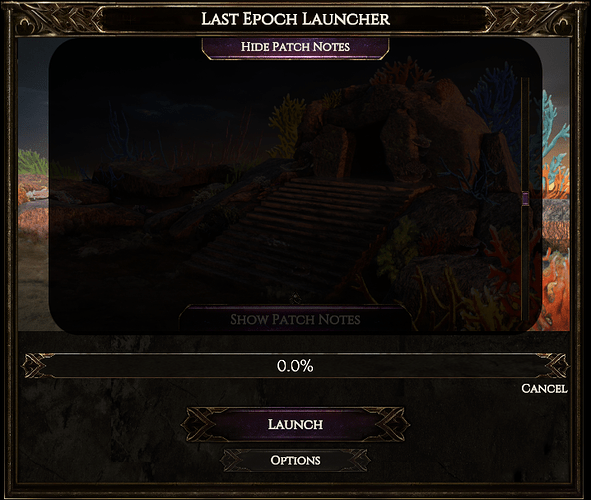 launcher-log.txt
(5.2 KB)
Launcher-stdouterr.log
(5.8 KB)
Player.log
(31.4 KB)