Video
---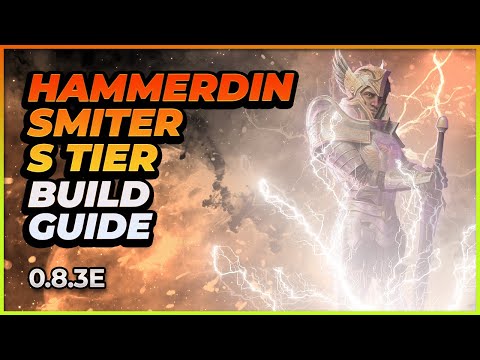 ---
This Build Tier Rating is:
---
  10/10 --->--->--->---> 5/10 >--->--->--->---> 1/10


          



---
Build Overview Summary/Rating/Interactions

---

Summary

This build is played as a Paladin! Using several skills to proc smite: Lunge from distance as a movement skill, javelin as a banner spamming smite every 0.8 seconds, and hammer throw having a chance to proc smite on every hit it does, we aim to get as many hammers spiraling around as possible and getting our mana low so smite hits even harder!

---

Main Interactions

Getting tons of adaptive spell damage by wearing a shield + having lower mana and utilizing devotion amulet
Using hammer throw and chance to proc smit on throwing attack idols to have tons of proc'd smites.

---

Rating

Defense - 8.5/10
Offense - 9/10
Empowered Bosses - 8.5/10
Speed Running Echoes - 8.5/10
Arena - 8.5/10
Average - 8.6 (S Tier)
---
Lootfilter Attached Click Here (NEW)

---

Please let Me know if you find anything messed up

GREEN - Early Game Items (1 affix Tier 1+)

BLUE - Mid Game Items (1 affix Tier 3+)

RED - Starting Endgame Items (1 affix Tier 5+)

YELLOW - Mid Endgame (Requires 3+ Affixes with 8+ Total Tiers)

ORANGE - Late Endgame (Requires 3+ Affixes with 12+ Total Tiers)

DARK GREEN - IDOLS

TEAL/BLUE - 1+ Tier 5+ Class Specific Affix For Any Class

PINK - Exalted/Set/Unique Items

WARNING: Unused Base Types and Non SENTINEL Class Items ARE HIDDEN

---

Pastebin Link

---

Hammerdin Paladin Lootfilter Pastebin Link

---
---
Dammitt's Builder For 0.8.3B

---

Hammerdin Paladin

Hammerdin Paladin Gear/Idols/Blessings
---
Most Important Stats

Defense For You (Most important to Least important

Health/Capped Resistances
Critical Strike Avoidance/Endurance
Spell Damage Leeched as life blessing is very helpful for survivability but not mandatory.

---

Offense (Most Important to Least important)

Adaptive spell Damage/ Increased Lightning Damage
Increased Spell Crit/Critical Strike Multiplier
---
Rating System Breakdown

---
---
Passive Screen Shots

Sentinel

Void Knight

Forge Guard

Paladin
---
Skill Screen Shots

Lunge

Javelin

Smite

Hammer Throw

Holy Aura
---
Social Platform Links

Twitch

---

Follow me on twitch and watch me live almost every day as we put together builds and test them!

---

Youtube

---

Here's Everything I've ever done in Last Epoch

---

Discord

---

Join my Discord and use the !Search function in the Search bot channel to find any build it is your looking for by name/creator/tier rating/class/master/skill/patch and more!

---
---
Updates

---

Initially posted September 4th 2021. Viable for 0.8.3B
---
Looking For a different build? Here's a Compendium with Tons!
---
150+ Builds and Guides in one place! Click Here
---
Have a good day Travelers!