Disclaimer:
I know not every DOT Paladin uses Judgement. I also know not everyone builds the same way. This is about a very specific archetype and what choices are available for it.
This feedback is not just my own, but multiple peoples with me just submitting it. Everyone has their own opinion on things and we are just looking to help make more builds possible/fun by giving feedback where we think it is needed.
Thank you!
---
Currently damage over time Judgement is one of the safest builds while having quite high top end damage. While the build is not super meta at this time, I am sure as more people discover this fact, it will be played a lot more. It is near immortal and has enough damage to do everything in the game and some.
There are three large issues with this build:
You scale a large portion of your defensive and offensive prowess off the same stat. Healing Effectiveness. This issue has plagued many ARPGs where 1 stat can scale both DPS and Tankyness at the same time.

A most-likely unintended interaction from a Shield Bash skill tree node. The node "Kindling" reads as follows: "Melee Fire damage: +200% (multiplicitive)", but in reality it works a bit different than that. It is actually a buff that causes your entire next melee ability to deal +200% more damage. This means when you have this buff and use "Judgement" it will get a 200% more damage multiplier, not a melee damage multiplier. This means it works on the Concentrated Ground effect as well.

Mana sustain (I will get more into this later on in this post) I know this issue can be solved with Volatile Reversal, but it pretty much kills the playstyle of "Aura around you doing damage" since you will use Judgement, return backwards and away from the enemies now, thus not doing damage with the aura for much of the already short duration it has. This is fine against bosses, but pretty much destroys your clear feel. Simply put its a solution at the heavy cost of fun, which should be the point of gaming in general.
This is where the build gets absolutely disgusting. A defensive based build that has a buff ready at a moments notice that enables them to snapshot a 200% more damage multipler as needed. This keeps it defensive playstyle, but brings the DPS side into the promise land.
This interaction is most likely unintended and will be nerfed, removed, changed, or something of the sort. That is fine.
The problem with changing this interaction though is that without it, the build is quite difficult to scale and I will explain why.
This is the most common baseline of a Judgement tree going the Concentrated Ground build: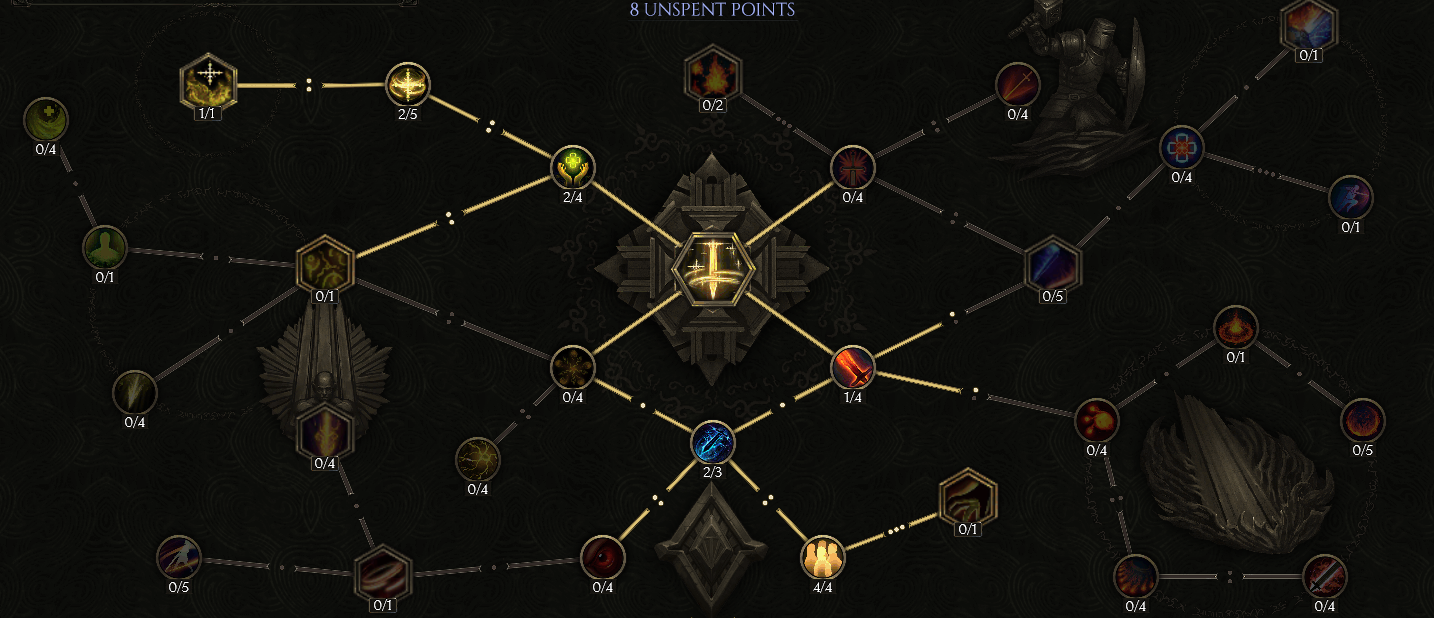 You have 8 points to spend from here. What are the options?
You could grab duration, which doesn't really add any power but rather quality of life.

You could head to the right side of the tree and grab "Searing Faith" and "Holy Fire" to raise your damage by a decent amount, but this will remove all healing from the Concecrated Ground. While the identify of this node is understood, you are willing choosing damage over the defensive aspects of the build, it ends up falling short because of some of the new nodes added to the Judgement tree.

The real bread winner: "Pious Offering" and remaining points in more duration.
Pious Offering is very strong, but is extremely hard to build around currently. The reason it is strong is because it allows you to maintain your defensive side of the build, while getting an absolutely insane amount of damage at the cost of all of your mana.
Judgement scales with Attunement in multiple ways. 4% increased damage per point, 4% Healing effectiveness per point (more damage multi), and Attunement gives more max mana per point baseline. This means each point of attunement is triple scaling Judgement with this node.
The large drawback is after blowing 400+ mana on Judgement, getting all the mana back at a decent enough pace in order to continue to use Judgement.
Current builds:
Current builds use the newly added "Javelin" ability with "Holy Trail" which gives you another DOT based ability to use for clear, "Path of Judgement" to enable it to scale with healing effectiveness just like Judgement, and "Sacred Forge" which gives your next Judgement a 60% more damage multiplier on next use after hitting with your Javelin directly.
Issue:
Attunement does not scale Javelin or Holy Trail, nor does mana, nor do you have any way to restore mana while using any set up with Javelin. On top of this there is only one Prefix on Chests/Helmets that scale both Holy Trail and Judgement: "Fire Damage Over Time". The only other affix that does much is Attunement, since it scales Judgement so incredibly well as explained earlier.
Other options:
Smite is the obvious other option. It scales with Attunement, can build through fissure/ignite/DOT based things, and can generate mana.
Issue:
Healing effectiveness loses all of its charm and already extremely limited use in build diversity when using it with the Smite/Judgement combination. Instead of Healing Effectiveness, you would just want to stack Attunement, Damage over time, elemental damage over time, and fire damage over time.
So Smite is turning into the logical choice for this build right? No. Sadly the damage of Javelin in combination with Judgement is still significantly better. Concecrated Ground being duration based means buffs like the Javelin giving 60% more damage to your next Judgement are just too good to pass up. It just creates a snapshotty mess of a playstyle that is too strong to pass up, but isn't that much fun since it relies on you waiting quite awhile for your mana to come back, but still being near immortal as needed.
Solutions: (Multiple ideas, none set in stone or perfect)
Fissure node on Smite currently stacks. This means the more you spam, the more these Fissures build up and do more damage. It also takes a huge hit on performance, but thats another conversation.
The nodes connecting to Fissure can give Duration (With added mana cost), Area, More Damage, and Kill Threshold.
My suggestion is add a new node, or replace the kill threshold node, that will make it so Fissures will no longer stack. Instead Fissure can now scale with increases to healing effectiveness. 1% healing effectiveness = 1% more damage (Similar to Javelin's node). This would make it so you have one super powerful Fissure, rather than multiple weaker ones built up.
In order for this to truly work though, I would really appreciate a buff to Fissures base damage or its damage effectiveness. It only has a 25% damage effectiveness because of it stacking, so even with all these new Paladin "added damage with a shield nodes" that were added it doesn't feel the greatest currently.
I suppose it is also possible to just make Smite in general scale with Healing Effectiveness in terms of damage, but I think limiting it to the Fissure is safer for balance. It also gives more love to building Smite out of Fire instead of the popular converting it to Lightning that is currently going on.
Add a node to Javelin that is only accessible if you have already taken "Holy Trail", so it can't be abused, that makes it so Holy Trail's Healing Per Second (25 baseline), that you get by standing in its fire, no longer will heal you but instead grant you increased mana regen. Baseline will be 25% increased mana regen and from there you can make it so attunement will raise the amount of increased mana regen per point.
This would be at a 1:1 ratio. One Attunement will be 1% increased mana regen while standing on the fire. This means if you stack Attunement you can now, if you have good rolls on gear, reach 75 Attunement and with the 25% base mana regen it has, reach 100% increased mana regen.
This helps play the mana/attunement based Judgement version of the build still without giving it additional power, while also removing a defensive aspect of the build and still has a condition around it (must be standing in the flame)
Personal side note: while this is a viable option, I can't imagine standing in the flame is something many people will enjoy feeling like they HAVE to do. It may be a good solution math wise vs power vs drawbacks, but might make the build a lot less fun to actually play which is pretty lame. Games are about fun afterall <3 If EHG can come up with a clever way though to have Attunement do something like this for this archetype that would most likely be the best way to fix it I just can't come up with a perfect one.
Time and Faith passive on the Sentinel base tree currently reads "You regain 25 health and 10 mana when you directly use Rive, Vengeance, Smite, or Multistrike." If Javelin could somehow be added to this (already extremely easy to negate the mana cost problems of this skill since -9 is on the tree and can get -6 from rings) then the build possibilities open up quite a bit. I have more to say on this in number 4, please continue reading.

Similar to number 3, but in a different way… Don't change Time and Faith passive, but instead add a new Prefix to Helmets and Chests exclusively that make Javelin restore mana if directly used and hit an enemy. This would be very similar to the Smite prefix which will restore mana if directly used (not procced) and hit an enemy.
Personal Side Note: The reason I am not 100% approving of 3&4 for this archetype is because Javelin has a cooldown with this playstyle. As such you would only be gaining the mana on hit once every 3 seconds IF you hit your Javelin. Doesn't really solve the issue that much, just helps it a small amount, on top of the fact that regular throwing builds would get much more access to mana which can cause issues.
Add more damage multipliers on Judgement specially for Conc Ground that do not turn off the healing portion, nor take all of your mana. Make them smaller than other choices currently. This alone will honestly not be enough damage after losing the big 200% more multi from Shield Bash… but it could be with one factor added in.
The other factor would be alongside adding more options on the Judgement skill tree, giving Conc Ground added damage effectiveness. Paladin just got a lot of these nodes added recently, but Conc Ground has 0% added damage effectiveness so it does nothing. Even giving it 25% would help a lot compared to having 0 currently.
Choice 5 and 1 still ends up being my favorite solution by a long shot… But maybe from talking about this archetype and some issues it has the devs can think of a clever way to help this archetype stay viable/fun after the Shield Bash change that will most likely happen. (Assuming you don't like Choice 1 or 5 for whatever reason)
---
These are just some ideas about solutions.
I really appreciate your time in reading all of this and I hope it helped explained some of the issues and leads to some positive changes in the future.
Thanks!
Much love,
Bryan (Tak) on the Last Epoch Discord
If anyone from EHG gets around to reading this, we would really enjoy it if you let us know with a reply! Even if nothing comes from it, knowing our feedback was seen after so much work was put into it would be great. Much appreciated <3