Hi guys !
I wanted to share with you a build I made a long time ago wich is now more than viable with recent minion buffs. I almost never play arena but I managed to clear wave 264 (currently rank 4 necro) with this build on my first and only run. I've been too greedy and I died like an idiot by running into melee range, so it can push a lot higher with better gameplay and gear.
It clears Monolith maps and bosses easily aswell, and it's a really fun build to play with a bit more active gameplay than other minion builds
This build is based around the Underlings node in Skeleton Mage tree which allows them to sacrifice our skeleton warriors to deal physical damage, buffed by 50% (multiplicative) thanks to the Merciless node in Bone curse tree. We can spam summon skeleton and they will explode as soon as they reach ennemies, dealing big damage in a large area, making this build quite strong for clearing timelines and arenas. It's probably not as fast as other minion builds for killing bosses, but it stills destroys them
the builds uses Bone golem as a retaliation tank thanks to the Bone nova spec and the huge Bone curse physical buffs it grants him.
And finaly, we use dread shade to buff minion damage and our own armour as long as we stay inside.
The build uses a lot of passives granting you ward when minions/ennemis dies and different defensive layers making it very tanky : I have around 4.3k ward base and I can usually maintain around 5k+ ward with decent or capped resistances, 96% crit avoidance, a bit of endurance and 30-40% armour with dread shade. However, you're not immortal and still need to avoid dangerous stuff, but you can stay in melee most of the time without an issue.
Here's a timeline run to showcase gameplay :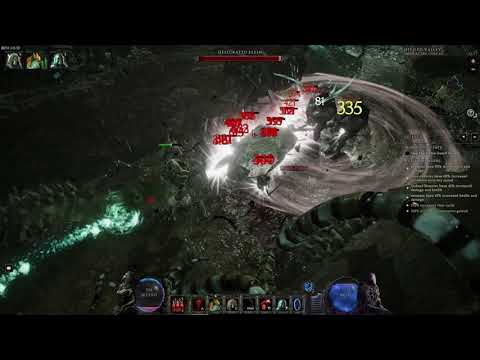 Here's my current gear. I'm using a lot of uniques and Exanguinous/Last step of the living are required to play low life, but the build works without it if you want to play as life based when starting. Same for Death rattle and reach of the grave : these are not required, but they will greatly boost your dps.
LE planner : Necromancer, Level 98 (LE Beta 0.8.1d) - Last Epoch Build Planner
Passives
Acolyte
Necromancer
Lich
Skills
Summon Skeleton
Summon Bone Golem
Summon Skeleton Mage
Bone Curse
Dread Shade
I hope you enjoy and let me know if you have any suggestion