Hello, Travelers!
The entire Eleventh Hour Games team is excited to announce some long awaited news – beta will drop on April 30, 2019 and it will be available on Steam!
That's right, beta is almost here. And with this release, we have some exciting things in store for you.

What's New in Beta?
Our first end game system, the Monolith of Fate
2.5 more chapters of story content (up to 5 chapters total now)
2 new mastery classes
12 new skills
6 new skill trees
UI updates

Steam Powered

First things first – Last Epoch is coming to Steam! On April 30th, Last Epoch will be available for purchase via Steam. If you have already purchased the game, we will be implementing a system on our website to help you access the game via Steam – more information to come!
This is a huge milestone for Eleventh Hour Games and we can't wait to share our game with you on another awesome platform.
Add Last Epoch to your Steam wishlist here!

Beta Supporter Packs
New supporter packs will be available with the launch of beta featuring new rewards including the Skullen - exclusive cosmetic pets who will follow you on your journey through Eterra. Stay tuned to our website and social media platforms for more information on these upcoming supporter packs.
Note: If you'd like to own the exclusives that come with the alpha series of supporter packs, time is running out as they will be unavailable after April 30th.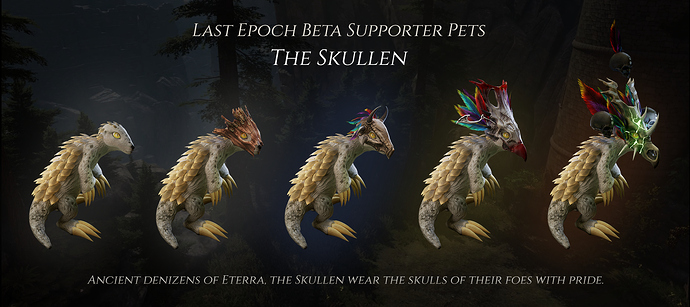 More Endgame: The Monolith of Fate
The Monolith of Fate will be Last Epoch's first major endgame system. Explore alternate timelines that contain new and deadly encounters, where your choices shape the course of your journey!
Players will run a sequence of zones with randomized enemies and objectives. At the end of each area you will be offered two options, each one adding new modifiers to the next several zones. These alternate timelines can be dangerous and unpredictable – untold treasures await those who dare to explore its depths!
It is important to note that this system is still early in development and will be updated and improved heavily over the coming months. The initial version that we are unveiling is a very simplified version of our final vision for it. You can check out an overview of all our end game systems that we have planned on this page.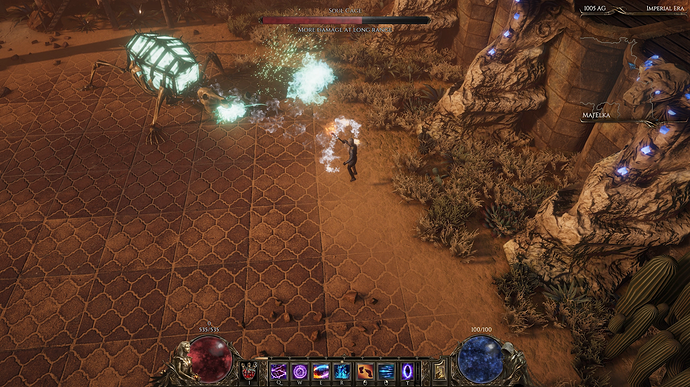 More Lore
We have shared about two and a half chapters of the Last Epoch story, the launch of beta will include roughly double that! We have a brand new prologue chapter which will help introduce new players to the world of Eterra and establish new origins for the player classes. We will finish the third chapter of the story where you will assault a massive naval fortress known as Harton's Dreadnought! Afterward, prepare to brave the treacherous sands of Maj'elka, the Jeweled City of the desert, and battle the Immortal Empire forces that occupy it. You're growing that much closer to finding the source of the Void – and more chapters are on their way!

More Classes
With two new mastery classes, Travelers have an all new reason to start a new adventure within Last Epoch as each character. Bringing new lore and unique combat styles, the Paladin and the Druid are rousing additions to the existing suite of classes.
Paladin: Take up the holy warrior's mantle and charge shield first into combat to cast judgment on your foes! Surround yourself with Sigils of Hope to ward off the wicked. Fortify yourself and your allies with the power of your Holy Aura as you smite your enemies with Sky Bolts!
Druid: Your connection to Eterra now flourishes and grows wild! Command the might of the forest by taking on the form of the Spriggan or transform into a fearsome Werebear and maul your foes with primal strength. You are the avatar of Eterra's latent power and a bastion against all that would threaten her!

More Skills
While new skills will be available through the Paladin and Druid additions, we are also adding several new abilities and augment trees for existing classes. Check out this quick list of new skills to upgrade your arsenal:
Shaman: Avalanche
Spellblade: Enchant Weapon and Shatter Strike
Forge Guard: Aegis, Forge Strike, and Manifest Armor

And more…
We have many additions planned for the month of beta – stay tuned to our forum and Discord for the most up-to-date information and news about Last Epoch.
Stay safe, Travelers!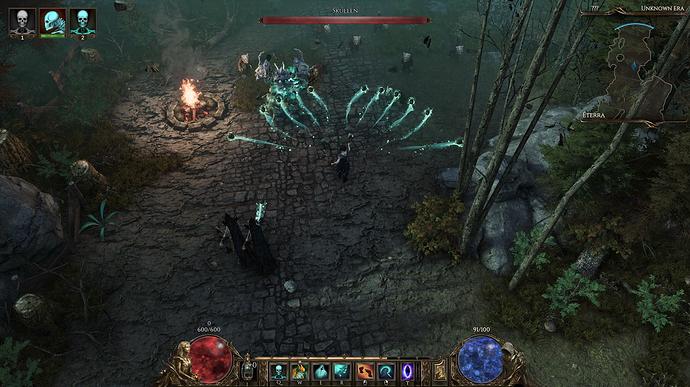 Frequently Asked Questions
How long has Last Epoch been in development?

Development started in April 2017.
Is there a demo?

Plans for a demo will be announced on our social media after beta launch. Currently, players can buy alpha / beta access to get to play now.
How much of Last Epoch is currently available?

Roughly 45% of the campaign is available, including 4 out of 5 classes and 10 out of 15 mastery classes. Two endgame systems, competitive leaderboards, hardcore and self-found modes, and over 70 skills, offering players many hours of playable content.
How long is the campaign?

A single playthrough at a moderate pace takes roughly 12 hours for an individual character build. Participation in endgame activities, crafting, or exploring builds, this can make this much longer. Current Travelers have already invested hundreds of hours in the Alpha! Content will be rapidly added throughout beta to keep players immersed in the world of Eterra.
What endgame content is there?

There are two endgame systems currently available:

The Endless Arena comes complete with a competitive leaderboard.
The first look at the Monolith of Fate allows you to explore alternate and randomized areas with increasing difficulties and rewards.
Which classes are currently implemented?

The following classes are currently available;

Acolyte
Mage
Primalist
Sentinel
Are the classes that are in Last Epoch right now complete?

Classes will be altered and improved throughout our development cycles. The classes that are available now will retain the majority of their current skills.
When is the Rogue being released?

The Rogue will be released during beta, but not at the initial beta launch.
Will Last Epoch have seasons?

Yes, after release, there will be a similar process in Last Epoch called "Cycles."
When will multiplayer be available?

Multiplayer will be available during beta, but not at the initial beta launch.
How long do the devs plan to support Last Epoch?

Last Epoch will continue to be supported with additional free content including explorable areas, new features, new mechanics, items, and much more!
Will Last Epoch have pay-to-win items?

There will never be any "Pay to Win" items in Last Epoch (Example: experience gain, convenience, etc). The only in-game purchases available will be purely cosmetic and pet-related store items.
Can I buy or sell ingame items for real money?

No.
Will Last Epoch be on Steam?

Yes! Last Epoch will be available on Steam on April 30, 2019.

You can add it to your Steam wishlist here.
If I have already purchased Last Epoch, will I need to buy it again to play through Steam?

No; our website will allow you to link your Steam account to your Last Epoch account.
Can I upgrade supporter packs down the road?

Players may upgrade their pack if it belongs to the current cycle of supporter packs. Packs purchased in previous cycles cannot be upgraded.
How does time travel play a role in Last Epoch?

Throughout the main campaign, you will travel back and forth through time to save the future of Eterra from the Void. During endgame, you will revisit and explore the lands of Eterra throughout the timelines. These timelines will scale in difficulty and will include unique, time-travel themed item-hunt systems such as the Eternity Cache.
What age rating is planned for Last Epoch?

Last Epoch is expected to be rated M for Mature (17+).