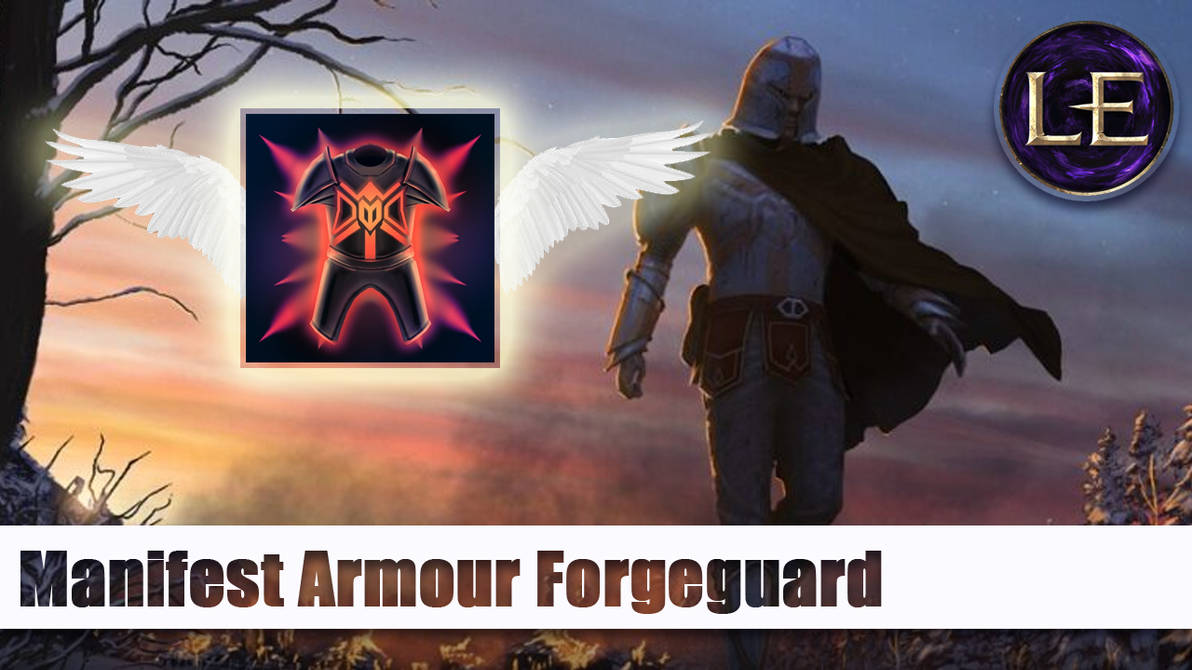 Youtube Build Guide
Catch me live on Twitch
Planner
It is time for the next update for Manifest Armour. A lot of things have changed since the last patch, so a new build guide was warranted! The video covers the most important aspects of the build, but I am going to go into a bit more detail about gearing and passives here.
I have played this build in regular Hardcore till level 100 during last patch and achieved level 92 in Hardcore Solo so far during this patch. Insane build that, with a few adjustments for softcore, can be even nuttier for single target and clearspeed. 10/10 build!
Changes from last Patch
removed Juggernaut Stance: we will miss it, but there are alternatives.
Solomun's Step cannot be gambled for anymore, instead we farm Spirits of Fire for the unique boots nodes
Lunge got reworked and is providing many great bonuses such as 15% kill threshold, faster recovery speed as well as healing missing health on use
we gain 14% Endurance from the Paladin tree. We lose some health in the process, but with a Grand Blessing from Spirit of Fire (15-27%) we can almost cap it out without investing any suffixes into it
How to skill Manifest Armour
Priorities:
Titan Mace: Manifest Armour equips your weapon
Force of Impact: 1 flat physical damage per 10 armour on Body Armour
Steel Greaves: get increased stats from Boots
Redistributed Steel: big damage multiplier
Remaining points into Stun Immunity (Thick Padding) and increased stats
FAQ:
Q: Why don't we use Dash Boots? A: The charge attack has a cooldown of 6 seconds and deals less damage than regular attacks. With high movement speed, this node is completely unnecessary
Q: Why don't we use Whirlwind Strike? A: This minion skill has a 10 second cooldown and will not do much in the overall spectrum of things. In fact, it will lower your boss DPS.
Q: Why don't we use leech over regen? A: The minion will only recover health when attacking which can leave you in a bad spot. Health regen always works and benefits both your minion and yourself, keeping your health bar nice and filled to the max.
Achieving 100% minion crit chance
It is quite easy to reach 100% crit chance on the minion. Target bases are Ranseur (8% base crit) or Sovnya (7% base crit) with T5 added Crit Chance. A T6 roll can go up to 15%, but we don't bet on that, do we? Another base that is often mentioned is the Lucerne (2h mace) which has a whooping 10% base crit, but it cannot roll Minion Melee Damage on suffix, which means you cannot benefit from 200% increased damage from there. It can still be worthwhile early on if you find a decently rolled one, but for endgame a Ranseur or Sovnya will be way better.
Sources of increased crit chance are:
Solarum Gloves: up to 40% crit chance from implicit and up to 50% from T5 prefix (quadrupled from Manifest Armour passives for up to 360% crit chance)
Amulet: up to 35% minion crit chance from implicit
Sources of increased crit multi are:
Solorun's Step: up to 105% crit multi (quadrupled to up to 420%)
Rings: up to 35% each from implicit
Helmet: up to 25% from implicit (quadrupled to up to 100%)
Melee damage and attack speed on gloves, helmet and body armour are highly relevant as well, which is why we want things like Vengeance on Helmet (up to 240% melee damage) and Forge Strike + Warpath on Body Armour (up to 540% melee damage). We might not need the extra skill points, but the increases to melee damage are insane.
We use the other item slots to fix out any other stats that we need like resistances, crit avoidance and such.
Passives
We don't level with minion skills until later, so make sure to not spec into Hammer & Anvil before you rely on only Manifest Armour and / or Forge Strike minions. Instead, choose top row passives from the Forgeguard tree to get to Folded Steel, which gives insane value for the minions. Afterwards, invest into the Paladin tree for easy resistances and unlocking Sigils of Hope.
Once you get the relevant nodes, focus on defensive nodes and never look back.